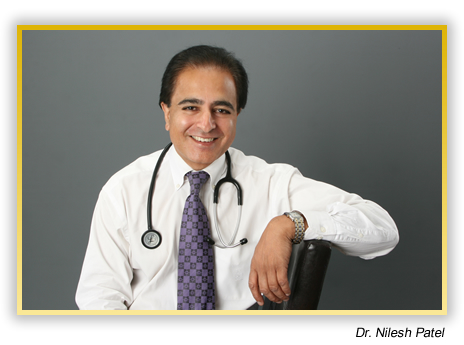 Dr. Nilesh Patel was born in Kenya and raised in London, United Kingdom. He received his medical degree from the University of Glasgow, Scotland in 1984. After graduating from Glasgow, he completed a surgical fellowship. He is a Fellow of the Royal College of Surgeons of England (F.R.C.S. England) and is also certified in Family Practice in the United Kingdom
Dr. Nilesh Patel moved to the United States in 1992 and completed his residency program in Family Practice at Chestnut Hill Hospital, Philadelphia. He has been in private practice in Audubon since 1994. Dr. Patel was a teacher at the Montgomery Hospital Family Practice Residency program from 1994 to 2013. Throughout the nineteen years of teaching at the program he encouraged the Family Practice residents to rotate through his private practice.
In September 2011, Dr. Nilesh Patel opened his current practice, Millgrove Medical Center, in Audubon, PA. His practice provides personalized Family Healthcare to the community. At his current facility, Dr. Patel aims to provide a personalized approach to all of your Family Healthcare needs through state of the art technology. Dr. Patel combines care and compassion with education and experience to provide the best in Family Medicine.
Education:
University of Glasgow School of Medicine - Scotland, United Kingdom 1984
Fellow of the Royal College of Surgeons - England, United Kingdom 1989
Certified in Family Practice in the United Kingdom since 1991
Family Practice Residency Program Chestnut Hill Hospital - Philadelphia 1994
Board Certified in Family Practice since 1994
Fellow of the American Board of Family Medicine (AAFP) since 2004
Our Office
Our office is located at 2793 Egypt Road,Audubon, PA 19403.